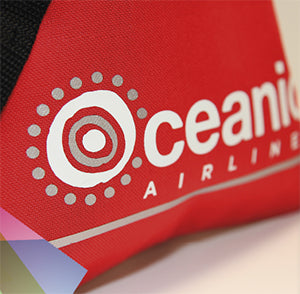 HEXIS HTV Layering
HTV, Heat Transfer Vinyl, layers! So it seems that the question that I have had many times is......Can I layer the HEXIS HTV? and which ones are compatible?  Lets us start first with the Application Guide that is provided from the manufacturer for the films. You will find all kinds of information that you never knew you needed and it will help you to understand the film makeup better as well as application temperatures and recommended press times. 
In this guide it has a reference to layering but does not go into much detail. So, we did the testing for you. For testing, we used a 100% cotton shirt. We used metallic's, Flock, FLEX100, and  PRINTFLEX (printable HTV) all in different formations. We also washed the shirt 2 times in cold water and dried it on high in a gas dryer after pressing.
Here is what we found:
You can layer all of the FLEX100 line on top of each other. We did 4 layers all overlapping at different points and had no issues. 
The Flock can be layered on top of Flock. We did two layers and had no issues. It is a thick film though so you can imagine that the more you layer it the heavier , thicker, and more stiff it will feel. 
Flock on top of FLEX100, Metallics, Sparkle, and PRINTFLEX all did fantastic. There were no issues with colors, sparkles, or prints interfering with the adhesion. The embossed look that you get is pretty neat. See our photos below.
PRINTFLEX on top of FLEX100 (colors, metallics, or sparkles) as well as flock worked great! No adhesion loss on edges or center was observed.
PRINTFLEX on top of PRINTFLEX was fantastic. We layered 3 times and although the shirt got a bit stiffer than I actually prefer all of the layers look perfect.
FLEX100 on top of PRINTFLEX was done with 1 layer and everything looked great.
HFLEX100 Sparkle and metallic on top of flock were both acceptable but not perfect. I would not recommend this for a lot of wash and wear. The metallic did conform a bit better to the flock than the sparkle. 
Here are our close up Images of some of the finished and washed tests:
Here is the print material (PRINTFLEX) after washing. It looks and feels great!
This is a close look at the embossed type look that you get with a standard color of FLEX100 and the flock film. (after washing)
Here is the image of Flock on Flock. They adhered perfectly and washed astonishingly well!
We always recommend when you are working with a new film or fabric type that you perform your own tests. Although if press times and heat temperatures are followed we feel you will be very happy with this product!.
---