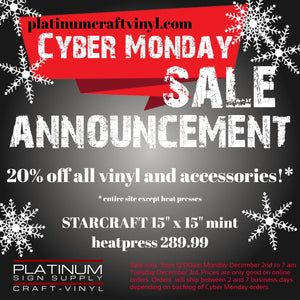 Cyber Monday
Platinumcraftvinyl.com will continue to have fantastic deals For Cyber Monday.
We will start the sale Monday at 12am and will continue the sale through Tuesday morning at 7 am Pacific time.
We will have:
StarCraft 15" x 15" mint heat presses for 289.99 until sold out.
ALL Vinyl 20% off
ALL HTV ( Heat Transfer Vinyl) 20% off
ALL Accessories 20% off
Actually- our entire site will be 20% off (except the Heat Presses)
Our Vinyl brands are HEXIS, StarCraft, and SISER.
Free shipping @ $35.00
and great customer service all the time!
Orders will be shipped as soon as possible and typically within 2 business days ( but up to 7 in case of sale overload)
*This sale will ONLY be for online purchases. It does NOT apply to purchases made in our store.
If you are local you are more than welcome to set your orders for Will Call or come in and see the product before you place your orders. But the actual ordering must be done on the website to get the percentage off.
---